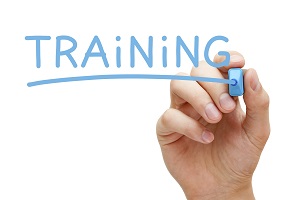 Some of the most crucial safety tools you can give your workers are education and employee training. A worker who truly understands the hazards and controls they are working with is much more capable of and likely to avoid injuries at work. By providing these same workers with in depth knowledge of your environmental, health, and safety (EHS) program, you also empower them to help you develop and implement changes that will keep them safer and save your company resources. On top of that, many OSHA standards have explicit training requirements that maritime, construction, agriculture, and general industries must include in their workplace safety training program.
OSHA does not actually offer any certified training courses, so it is up to your company to provide the safety training program you need to stay compliant and keep employees safe. The closest thing offered would be the OSHA certifications under their Outreach program which includes a 10-Hour and 30-Hour course covering both the basic and more advanced training on common workplace safety and health hazards.
Your organization's workplace safety training program must relate to the operations conducted on your worksite and the hazards the employees will face. For example, if any workers must provide first aid as part of their duties, those workers would need bloodborne pathogen training. Training must be as relevant as possible to the individual taking the training course and should cover the use of tools and equipment needed to complete the tasks associated with the course.
Some states have been approved by OSHA to operate their own health and safety programs, so you must then also meet the state guidelines rather than just the federal ones. These states have unique OSHA approved plans that may differ from the federal requirements on workplace safety training.
When Do Employees Need Workplace Safety Training?
According to OSHA training requirements, employees must be trained on safe working procedures when they are first hired, assigned to new jobs or tasks, when a new process or material is introduced to the workplace that may be hazardous, and when they are responsible for performing tasks that are hazardous. Depending on the standards for the training they are being given, employees may also be required to complete annual training. For example, bloodborne pathogen training must be completed annually, but hazard communication training is only required in the event of a procedural change that introduces a new hazard to the workplace.
It can be difficult to track the numerous industry standards, courses that employees must complete, and retraining that has to take place. The easiest and most efficient way to stay on top of delivering training, tracking upcoming training, and pulling records is through the use of employee training software. If you do not currently have one, here is a good place to try one yourself.
Online Safety Training
In a letter published by OSHA, they recognized that online training improves the tracking process and learning engagement, and added that:
"…OSHA believes that computer-based training programs can be used as part of an effective safety and health training program to satisfy OSHA training requirements, provided that the program is supplemented by the opportunity for trainees to ask questions of a qualified trainer, and provides trainees with sufficient hands-on experience."
Essentially, OSHA wants employers to develop comprehensive and immersive training programs. While online safety training offers many benefits, no single training method is the perfect solution to keeping employees safe. Online training should be supplemented by other methods such as experiential learning; however, the right software will also track that for you. Some OSHA training standards actually require that hands-on training be provided, so the software is really only a measurement and tracking tool to help make your job easier. A good example of this would be providing forklift online training videos before employees attend a forklift driver hands-on session.
Online training is great for introducing topics, reinforcing topics, and putting time back into the trainer's schedules. The online courses allow employees to access them anywhere, anytime, and at their own pace. In fact, the BasicSafe software has been shown to cut down on time waste by 90% as compared to other methods of training tracking.
What to Look for in Training Software
If your new to training software here are some tips to help you find the right one.
Ease of Use
This is probably the most important piece to any software. Knowing that it will be easy for all levels of your organization to access and use is extremely important. For this reason, it is highly recommended that you use some sort of trial or demo of the software.
Reminders
Keeping track of workplace safety training can be very time consuming. For this reason, notifications of some sort will be helpful in keeping up on training and staying in compliance.
Interactivity
Engagement is a significant factor in determining the effectiveness of training. The more interaction that a training format requires, the more employees will retain from it. For this reason, look for software that allows use of training videos and hands-on type training to get the most out of your time and money.
Tracking
The right software will provide you with real time metrics on the training health of your organization. Metrics like pass rates, expired training, and passed due training dates all help you to stay up to date and compliant. A good software will also allow the segmenting of employees by things like job title and supervisor, which allows for even more in-depth analysis of your workplace safety training.
Configurability
It is important that the training solution that you find allows you to modify the software to meet your organizations needs. As your training program itself evolves and grows, the software should be able to grow with it.
If you don't currently have a training management software, regardless of the size of your organization, BasicSafe has an affordable solution for you that offers all of the above mentioned features. Check it out here.
HAZCOM Training
According to the OSHA Hazard Communication (HAZCOM) Standard, organizations with hazardous chemicals in their workplaces must train employees how to work safety in areas where those chemicals are present. This training must cover the methods used to detect the release of hazardous chemicals in the work area and detail the physical, health, and other hazards of the chemicals. HAZCOM training also has to cover the ways in which employees can protect themselves from these hazards.
Employees also must be trained on the details of the organizations chemical inventory and container labels, safety data sheets (SDS), and the written HAZCOM program. All of this information must be easily accessible and the employees need to understand how to access it in case of emergency or when using the chemicals.
Who Needs HAZCOM Training?
According to OSHA, all workers "who may be exposed to hazardous chemicals under normal operating conditions or during foreseeable emergencies" must be trained on HAZCOM. It is best to be cautious here and include any employee who could ever possibly be exposed to the chemicals rather than risk injury, death, or OSHA fine.
Employees should receive this training at the time of their initial assignment, when a new hazard is introduced, or when a new type of chemical with different hazards is introduced.
Workplace Safety Training Method
Workplace safety education and training should provide employers, managers, supervisors with:
The knowledge and skills to work safely and avoid unnecessary hazards

The ability to help their peers avoid risks

The awareness and understanding of the hazards present in your workplace and the ability to identify, report, and control them

Specialized training on the unique hazards of their specific jobs and tasks
Besides the standard workplace safety training that your company provides to all employees, additional training should be given to employers, managers, supervisors, and workers with unique roles. For example: managers may need leadership training that involves the way your company intends to handle direction and resources associated with the safety program (e.g., near miss incident tracking). This training should include information on how they should be expected to participate in these programs.
Not all training needs to be done in a classroom setting. In fact, peer to peer training, on the job training, worksite demonstrations, and mobile micro training sessions are all proven effective ways to ensure that your employees understand safety concepts, hazards, controls, and workplace practices.
Some special cases apply and they can be found in the Special Cases section below.
A good way to provide general safety training in an efficient and effecting manner is by following these steps-
Provide all employees safety program awareness training

Train employers, managers, and supervisors on their specific roles in the program

Train workers on their specific roles in the EHS program

Train workers on hazard recognition and controls

Provide ongoing training sessions like those mentioned above to keep safety knowledge fresh
Safety program awareness training
All employees need to understand the structure, plan, and procedures of your safety program. It is also important that they know where to access this information in the future. All workplace safety training should be provided in a language and at the education level that your workers can understand. Understanding this program helps ensure that everyone can help develop, implement, and improve your safety program. Emphasis should be placed on the fact that the program will only work when everyone is involved and comfortable with it.
How to accomplish this-
Provide training to all managers, supervisors, workers, contractors, subs, and temp workers on-

The EHS policies, procedures, and goals.

The functions of the EHS program.

Whom to contact with questions, concerns, or emergencies (make this easily accessible at all times).

How to report hazards, near misses, illnesses, and injuries.

Emergency response plans.

Employer responsibilities.

Worker's rights under OSHA.

Provide training on the hazards of your workplace and the controls able to be put in place for those specific hazards.

Work to reach an understanding that all workers have the right to fully participate in your safety program (report near misses, injuries, incidents, concerns, etc.) without fear of retaliation.
Employer, manager, and supervisor role specific training
All members of your organization should be responsible for the worker's safety. It is important to provide training on safety related concepts and techniques that allow them to offer the safest environment to the workers. Providing specific training to individual roles will allow them to accomplish this task.
How to accomplish this-
Provide training on the members roles and responsibilities under the Occupational Safety and Health Act and those that your company requires.

Provide training on the rights guaranteed to the employees under the Act.

Train members on the procedures for responding to reports of injuries, illnesses, incidents, and near misses and include information on how to avoid discouraging reporting.

Train members on the concepts and techniques for recognizing hazards and controlling them. Include training on the hierarchy of controls.

Train members on the incident investigation techniques used by your organization.

Provide access and training in programs and tools used to accomplish these tasks.
Worker role specific training
Additional training should be provided to workers to ensure that they can accomplish any health and safety responsibilities assigned to them.
How to accomplish this-
Train workers how to report near misses, injuries, illnesses, incidents, and concerns. Provide access to the systems your company uses for these tasks. (Don't have one? Try

BasicSafe

)

Instruct workers with specific roles in the EHS program how to carry out their responsibilities.

Provide opportunities for workers to give feedback and ask questions during and after the training.
Hazard recognition and controls
Understanding hazard recognition and control implementation can help workers eliminate hazards before an incident even occurs.
How to accomplish this-
Provide training on the use of job safety analysis (

JSA's

).

Train workers on general hazard recognition as well as job specific hazards.

Train workers on hazard control measures as well as the hierarchy of controls.

Provide training on proper use of work practice and administrative controls.

Provide training on the proper use of required personal protective equipment (PPE).

Train employees on any changes in facility, equipment, process, materials, or organization or when a worker is assigned a new job or task.
Ongoing training
Although providing safety training up front does help mitigate risk it is only the first step in keeping employees safe. Follow up training such as hands on sessions and micro-training sessions keep the knowledge fresh and top of mind.
How to accomplish this-
Provide the resources needed for peer to peer safety training in the field.

Train employees on the job with management led training sessions.

Provide worksite demonstrations and give employees the opportunity to ask questions and give input.

Provide micro training sessions, these are short, keep information easily digestible and do not affect work schedules as drastically as the other options so they are easier to include more regularly.

Give access to all relevant training materials to all employees at all times.
For more information on training new employees check out our safety onboarding checklist.
Special Cases
Forklift Safety Training
The OSHA powered industrial truck (PIT) regulations found in Standard 29 CFR 1910.178 requires employers properly train any employee, contractor, or temp worker who will use a forklift on the job. If your workers will be operating a forklift or other PIT, they need to be trained on the following-
Operating instructions, warnings, and precautions specific to the PIT they will be using

Differences between a PIT and an automobile

Identifying and mitigating hazards created by PIT's in the workplace

How to perform inspections and maintenance

Understanding the PIT's controls

Other general safe use principles
According to this standard training must be administered as formal instruction, practical training, and professional evaluation. The practical phase should include hands-on teaching and demos, along with supervised use. Formal training can be lectures, presentations, training videos, written materials, and interactive online courses.
After receiving the practical and formal training, learners must take a professional evaluation in order to obtain their certification. This certification process falls on the employer and the certification document must include the operators name, their training and evaluation dates, and the name of the person performing the evaluation. OSHA requires that businesses maintain certification records for three years. For this reason, it is important to perform refresher training and evaluation at least every three years, but it is also required if an operator is observed using the vehicle in an unsafe manner or has had an incident involving the use of the PIT.
Confined Space Training
If your workplace contains permit required confined spaces, both the entrants and the attendants of these spaces must be trained in the safe work procedures required for working in confined spaces. Training must also be provided to any personnel who will be working near a confined space in order to prevent unauthorized entry.
This training should address the following-
Your organization's policy and confined space program limiting access to these spaces

Recognizing the warning and identification signs

Changes in use or configuration of non-permit spaces that could require the space to become classified as a permit-required space

Procedures that address employees or contractors of other companies who enter and work in the permit required spaces
Entrants need to be trained on-
The hazards associated with confined space entry

The use of barriers and shields around entry points

How to install forced air ventilation systems

How to monitor air quality within the space

How to work lighting equipment and explosion-proof lighting equipment

How to use all required PPE

How to communicate with attendants and alert them of developing or existing hazards

The workings of evacuation alarms

How to exit the space safely
Attendants must be trained on-
Hazards that may be encountered on entry

How to recognize signs and symptoms of hazard exposure

How to remain outside of the space and maintain count, communication, and identity of entrants

How to summon rescue or emergency personnel or perform non-entry rescues
When must workers receive confined space training?
Before initial assignment all employees must complete confined space training. Additional training is needed if job duties change, confined space program changes, operation of these spaces presents a new hazard, or an employee's performance shows they require more training.
OSHA requires employers to track records of these trainings, keep them readily available, and include employee name, trainer signoff, and the dates of the trainings.
Electrical Safety Training
OSHA states that only qualified workers can perform maintenance and repairs of electrical equipment. These workers have to be trained to identify exposed live electrical parts and their voltage, and know the procedures to follow when they work on these parts or are close enough to be at risk. However, even non-qualified workers must also be trained on electrical safety.
Non-qualified workers should be trained on-
Basic electrical terms

How to identify and avoid electrical hazards

The maximum voltage of energized components in the work area

The use of PPE and any necessary insulated tools

How to prevent circuits from being overloaded

The types of conductive and flammable materials that need to be kept away from energized equipment and electrical sources

Tasks and maintenance of electrical equipment that should be performed by qualified employees

Hazards and circumstances specific to their work areas

Whom to report electrical problems to

What to do in case of an electrical accident or incident
When Should Electrical Safety Training be Provided?
Training should be provided prior to the assignment of tasks that may present electrical hazards, particularly since the National Institute for Occupational Safety and Health found that 41% of workplace electrocution incidents involved workers who had been on the job for less than a year. Refresher training should also be given as needed, especially if workplace changes introduce a new hazard, or an incident or accident occurs.
Driver Safety Training
A good driver safety training course should cover the following-
Adjusting your seat to comfortably and safely complete maneuvers in an emergency

Positioning of mirrors to minimize blind spots

Safe passing tips

Creating a safety cushion of space between yourself and other vehicles

Basic emergency and maintenance equipment that needs to be kept with the vehicle

Steps to familiarize yourself with a new vehicle

Retaining visibility in bad weather and navigating poor conditions

Vehicle inspection training

The dangers of driving under the influence of drugs or alcohol

Procedures to follow in case of vehicular accident

Driver fatigue (Commercial drivers-

Department of Transportation regulations on rest

.)

Distracted driving training
Bloodborne Pathogen Training
OSHA developed its Bloodborne Pathogens Standard 29 CFR 1910.1030 in order to protect at risk employees from exposure to these pathogens. It requires that employees are trained on the hazards of being exposed to blood or other potentially infectious material (OPIM) in the workplace. The employer must determine which jobs or tasks could potentially involve exposure, however there are some recommendations.
Employees who should receive the training include-
Any employee who must administer first aid

Employees whose job includes cleaning areas or surfaces contaminated with blood or OPIM

Employees trained to provide medical, healthcare, or medical research services

Housekeeping and janitorial staff at healthcare facilities
Workplace safety training does not need to be a difficult undertaking. With the right planning and tools, it can cut down on costs and keep employees safer. One of the easiest ways to cut down on the administrative effort and time waste associated with training is to provide all in one, accessible training software like the Training or Corporate Training tool offered by BasicSafe. These tools schedule and provide training and testing based on employee grouping, training category, and more. They also offer employees and management the ability to access training and provide feedback at any time through online or mobile use. If your company struggles with staying on top of training or would just like an easier way to manage it, BasicSafe is right for you. Click the button below to learn more.